Through a long and reliable partner relationship with the end customer, SeaSatCom proposed to meet the client's expectations using a Peplink infrastructure on board ENIGMA XK (72m Expedition Yacht in the Antarctic).
Challenge
The IT infrastructure onboard the yacht was a stack of routers and L3/L2 switches due to multi installations and upgrades by successive integrators. Indeed, for years, connected systems have been installed onboard as add-ons on the existing LAN, resulting in hours of maintenance to troubleshoot issues and unexpected slowness.
Solution
As Peplink Certified Partner, SeaSatCom was 100% sure to deliver an integrated LAN to support all connected systems (IT/AV/CCTV/LIGHTS/HVAC and TELEMEDICINE) to allow the customer to monitor the bandwidth, control the traffic and manage the WAN costs (VSAT and 4G).

WAN:
1x MAX BR1 LTEA equipped with redundant SIM slots to receive 4G/LTEA
LAN:
1x Multi-WAN Balance 580 to manage VLANs and route the traffic properly
13 x SD switches with POE possibilities (2x 48 Ports, 2x 24 Ports and 3x 8 Ports)
20 x AP ONE AC for Wi-Fi 2.4GHz and 5Ghz
Competition
To make a difference with the competition, SeaSatCom used the full benefit of Peplink InControl to enable a Shore-Based IT support service: The SeaSatCare option was born! Indeed, through this Cloud-Based Management and Monitoring solution, SeaSatCom's Support Operation Center (SOC) can meet clients' expectations as per the agreed SLA. A few minutes to connect and a few minutes to take action: A REAL PEACE OF MIND for the crew and a RELIABLE SERVICE for the owner and his guests.
Deployment
Two main difficulties were identified by our pre-sales team:
As ENIGMA XK was located in Cape Town (ZA), the installation was done remotely by the Support Operation Center (SOC) using inControl features. The full setup was performed with a minimum headache for the crew who just had to patch the cables on switch ports as described in SeaSatCom's "Network Installation and Commissioning" guide.
Multiple AV/IT connected systems onboard were easily integrated after a full analysis of the existing data flows and without spending hours modifying device parameters. SeaSatCom's engineering department composed of Peplink Certified professionals know what to check before preparing such a major LAN refit onboard a yacht.
Benefits
The well-documented infrastructure is now fully managed and monitored by Peplink Certified Engineers through the SeaSatCare solution.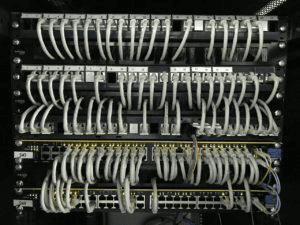 Thanks to ENIGMA XK for trusting us again!
Testimonial
After spending hours facing stress and issues on board dealing with AV and IT systems we decided to choose SeaSatCom for their knowledge of Peplink solutions. More than simple products, we really appreciate the service we have in our operations thanks to SeaSatcom's Support Operation Center expert hands. SeaSatCom went the extra mile fixing issues on components that were not part of their scope of work! The transition from our old and unreliable system to the new Peplink system was therefore seamless for u.