NETWORK

You are looking to make your yacht smarter and for reliable infrastructure.
We set up your LAN and remotely manage it to ensure IP convergence.

Our aim is to ease your life on board.

The LAN (Local Area Network) is the second step allowing you to enjoy good internet received via VSAT and/or 5G.

It is essential to design the network to evolve with your needs and make it able to support all your usage whether emails, web surfing, social network, YouTube, streaming, video conferencing, etc.

As a Network architect and IP Expert, we are able to translate your usage into a technological infrastructure with Ethernet cables, fiber optic and wireless access points, and WiFi 6.

As Peplink Maritime Certified partner we are able to design and implement your network but also to support you remotely and solve problems even when you are at sea and far away via our Service Operation Center.

Every year our technicians are following proper training.

Here are some of the digital services we provide:
- In Control: manage all equipment via one web interface;
- SeaSatCare: monitor and manage via remote assistance;
- IP Convergence: integrate A/V, CCTV and telephony;
- Speedfusion: manage VSAT/5G/Satcom and benefit bounding;
- Cybersecurity: protect your internet life.

Have a look to Peplink Maritime Connectivity presentation :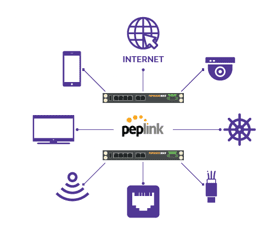 If you wan
t to know more about Cybersecurity and Peplink please read the following :